Back pOrchestra
Acoustic Roots Rock, Singer/Songwriter, Americana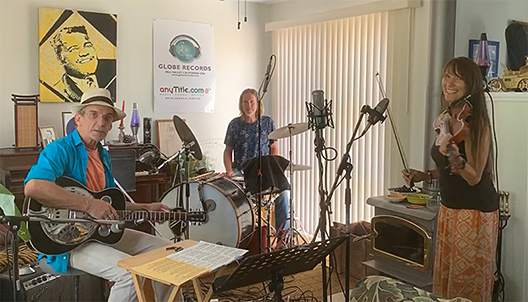 with... Tim Eschliman, Bowen Brown, Candy Girard...
originals and some select, possibly obscure, even historic tunes
(incl. '20s, '30s tunes downsized and reinvented a taste...)

New lockdown music by newly formed this summer, Shelter-in-Place-inspired musical outfit,
Tim Eschliman's Back Porch-Estra

...a Shelter-in-Place-inspired musical outfit ...a small Roots Rock, Singer-Songwriter, Americana combo befitting the newfound minimalism of the current times... going back to the basics... dishing out new original material and yet also some reworked ancestral, historic American Roots heirloom selections. Formed for the first time this lockdowned summer (2020), they have conducted several live shows and live streaming episodes as well as a recent foray into the Big-Pink-style living room recording facilities of Globe Records (as also utilized in the recent New Copasetics release).




Our 2nd Single ... "Allons À Lafayette"
...our take on the 1st Cajun song ever released
(on a 78 rpm record in 1928).
with Tim Eschliman, Candy Girard, Bowen Brown & Beau Bradbury
available all over.. check a sample or choose your music playform here.
or go direct to:
iTunes - Amazon - Spotify - Tidal - Deezer

What's it like?:

This new interpretation of an historic Cajun tune conjurs up a Southwest Louisiana Dance Hall party... rural American Roots lives on... This single also features Beau Bradbury (Beaullieau) on bass on the live recording (California Honeydrops, Gator Beat).




Our 1st Single...about this forever moment we are currently in:
"If I Ever See You Again"
- a love song to anyone and everyone we haven't seen in 8 months and beyond...
available all over.. check a sample or choose your music playform here.
or go direct to:
iTunes - Amazon - Spotify - Deezer

What's it like?:

The Roots Rock flavor of this track is driven by a Levon Helm rhythm inspiration, a bit of Lucinda vibe, even some Joni Mitchell influence, some Sid Page improvisational/orchestral tones (Dan Hicks) and when we get to reach the chorus, a hint of Marvin Gaye groove.

Back pOrchEstra is Tim Eschliman (Etta James, Commander Cody, New Copasetics), Bowen Brown (John Lee Hooker, Tommy Castro, Rhythmtown-Jive), Candy Girard (Delaney Bramlet, Tanya Tucker, Clint Black and with Jerry Garcia on his album "Cats Down Under the Stars"). This single also features Beau Bradbury (Beaullieau) on bass on the live recording (California Honeydrops, Gator Beat) and Vicki Randle on percussion over the internet (worked with Dr. John, Wayne Shorter, Herbie Hancock, Aretha Franklin, Todd Rundgren and Mavis Staples and was in the Tonight Show Band with Jay Leno from 1992 to 2010) Roots Rock, Americana, acoustic blues, Western Swing, Cajun, Pop-Rock, jug band, New Orleans and Kitchen Sink music... The band draws from new original material as well as reworked classics by Hank Williams, Taj Mahal, Dan Hicks, Big Bill Broonzy, Bob Wills, Bobby Charles ...even Christmas Jug Band tunes



Calendar:

Back pOrchEstra at Murphy's Irish Pub, Sonoma
outdoors Feb 6, 2021 Saturday 7:00-9:00
464 1st St E, Sonoma, CA 95476 (707) 935-0660
Click here to see Facebook Event page for this show



Back pOrchEstra at Murphy's Irish Pub, Sonoma
outdoors Dec 6, Sunday 5:00-7:00
464 1st St E, Sonoma, CA 95476 (707) 935-0660



Back pOrchEstra at Lagunitas Petaluma Taproom Beergarden
outdoors Oct 22, Thurs, 4:20-7:30
1280 N McDowell Blvd, Petaluma, CA 94954 (707) 778 8776
unfortunately all Lagunitas Taproom Petaluma shows have been cancelled...
Hope to deliver some music soon in another way...
Click here to see Facebook Event page for this show



Back pOrchEstra at Murphy's Irish Pub, Sonoma
outdoors Oct 4, Sunday 5:30-7:30 +Live Stream Happy Hour
464 1st St E, Sonoma, CA 95476 (707) 935-0660
Click here to see Facebook Event page for this show



Back pOrchEstra at Lagunitas Petaluma Taproom Beergarden
outdoors Sept 29, 3:00-6:00 Canceled do to smoke!
1280 N McDowell Blvd, Petaluma, CA 94954 (707) 778 8776



1st Live show ever!:
Back pOrchEstra at Murphy's Irish Pub, Sonoma
outdoors Sept 6, 7:30-9:30 (NOTE TIME CHANGE!) +Live Stream Happy Hour
464 1st St E, Sonoma, CA 95476 (707) 935-0660
Click here to see Facebook Event page for this show